Three month free trial for CrossTrack MTL
Press Release
For Immediate Release
19th October 2017

CrossTrack MTL available on subscription with three months free trial
Installed/trained same-day, CrossTrack tracks raw material and kits
The material-tracking focussed version of JETCAM's award-winning composite management software is now available on a monthly subscription, is self-installable and provided with a three-month free trial.
CrossTrack MTL provides end-to-end tracking of both material location and life (expiry) of prepreg materials such as rolls and tapes, as well as delivering traceability of kits from the cutting room, through to layup, the autoclave and beyond. Highly customizable and based on MS SQL Server database platform, it can be integrated into existing data systems such as MRP to allow for easy importing of new materials along with updating MRP with information such as roll usage or kit status, location and life. Alternatively, users can take advantage of the in-built shop floor interface to handle tasks such as booking in and relocating material/kits, with the resulting information available for MRP systems.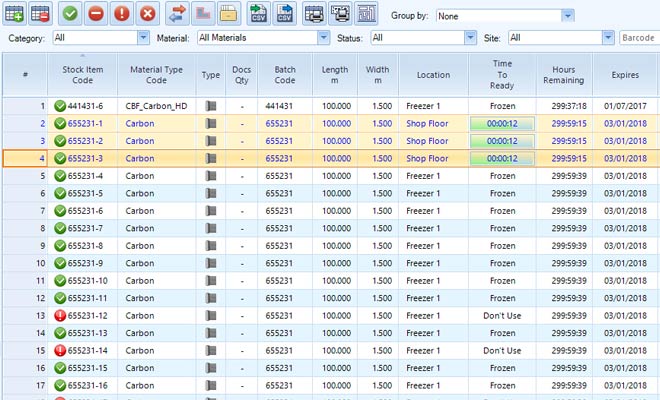 The system has been designed to be user-installable, with companies able to install, configure and learn the system within a couple of hours. Customers have access to JETCAM's online University, containing hundreds of tutorial videos allowing users to get up to speed quickly. Videos can be watched on desktops, tablets and mobiles. Once users have set up their material types and imported existing stock the system is ready to use. As users make changes to the status of items in CrossTrack, it's added to a log, which allows for comprehensive traceability reports to be instantly generated at any time.
Composite manufacturers can recreate all of their material locations virtually, so that location and life can be tracked with descriptions meaningful to that business. Allocating material to locations such as freezers, cutters and autoclaves will alter or stop the life countdown, with every change to a materials' status being logged.
In addition to tracking material location and life, users can create kits and then allocate material against them, building up a full history not only of the whole kit itself, but of individual plies and materials associated with them. As with materials, a PDF kit traceability report can be generated from the right-click menu. Users can quickly get the full history of a roll, tape or kit using the Life Cycle graph, which pinpoints each change in an item's status. Changes such as clearing material for production, blocking, rejecting, re-lifing, scrapping or relocating are logged, also capturing who performed the change, when and on which computer. Comprehensive user access control provides the security to ensure that only the right staff have clearance to perform specific tasks, whilst also removing the possibility for error.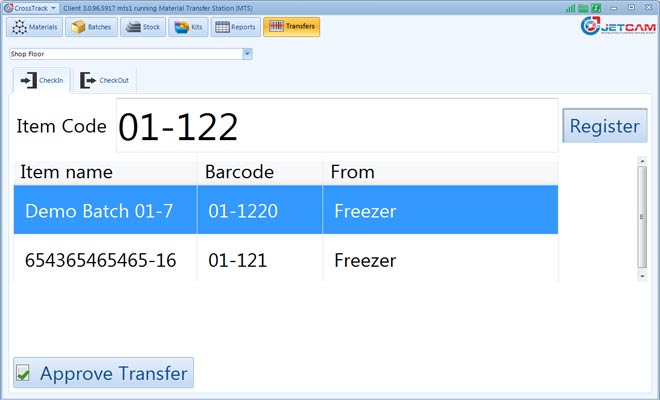 Said Martin Bailey, General Manager, JETCAM International s.a.r.l.; "Any company that has ever had to throw out expired material or that is drowning in a sea of paperwork will immediately see major benefits from CrossTrack MTL. It delivers enterprise-level traceability across the shop floor without any significant cost overhead. The three-month free trial and ease of implementation gives companies the time to get up and running and see what it will do for their business without the pressure of sales people looking to cut a high value order. By the time the first subscription is due the system will have already justified its cost many times over."
CrossTrack MTL can run on the free version of MS SQL Server - SQL Server Express, and does not require customers to be users of JETCAM's Expert nesting software. There is an upgrade option to the CrossTrack AMS or CMS suite, which does include full integration with nesting system and among other functionalities, provides orders management and shop floor scheduling of nests to be cut. Added Bailey; "Many of our customers work in the aerospace and defense sectors. By default CrossTrack stores all its data locally rather than in the cloud, allowing companies that are concerned about security to ensure that data accessibility is strictly controlled."
Monthly prices are €159 for the first license (billed annually in advance), or €169 (billed quarterly in advance), with additional licenses at €149 or €159 respectively, depending on billing period. Although the product is self-installable customers can opt for a remote install service at €299. Companies can register to receive the free trial at www.jetcam.com.
Visit the CrossTrack MTL micro-site here
See also: